Welcome to Cynthia's
Gallery
of Clay Figurines
updated January 2008
llllllllllllllll
*J *
Hello and Welcome!
I've been waiting for your arrival.
Thanks to the support of my family,
you've finally made it to my Gallery.
I hope you enjoy looking at my clay figurines.
I use to teach part time how
to work with poly-clay.
Just put your fears aside.
Start with small projects such as refrigerator magnets
(SEE MAGNETS LINK BELOW)
and build up to the big stuff later.
If you enjoy crafts
I think you'll have fun with oven bake clay.
It's easier than it looks.
All my figurines are made strictly by hand (no molds) and
all are my original creations. If you think you've seen one before,
it's purely coincidental or accidental. Each one is a
unique individual because they are hand made.
*
Pan sits upon a meadow rock as is approx. 11" tall
He is half goat - half man and the keeper of the forest.
His flute is his lady love magically turned into reeds.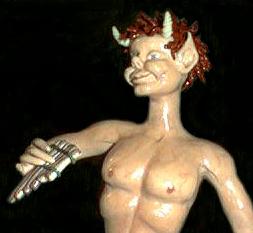 Pan
**
The Wizard stands approx. 13" tall
He carries a staff of great mystical powers
and points the way to great knowledge.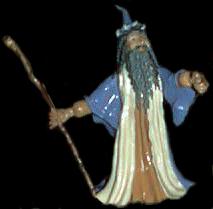 Wizard

***
This friendly animated Dragon sits approx. 12" tall
holding a crystal ball to see into the future.
Dragon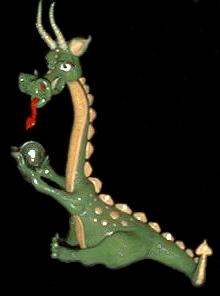 **
The Angel stands approx. 12" tall.
Roses, ribbons, dress, hair, halo, and wings
are made completely out of poly clay.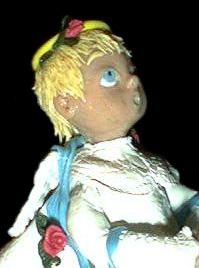 Angel
*
The Mermaid of the sea offers a pearl as a gift of love.
She sits on a crystal rock with her tail touching the table and is
approximately 8" tall from head to rock base.

Mermaid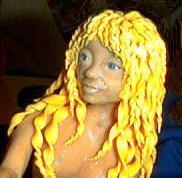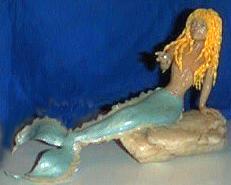 Centaur
Half horse half man....
Under construction in February 1999
and hope to finish before the end of March.
Centaur sits approximately 7 1/2" tall.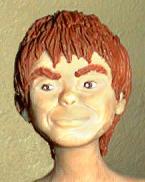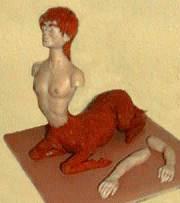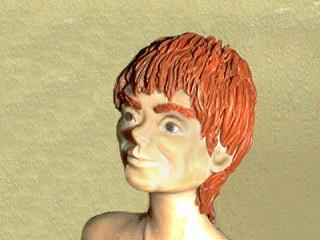 Close up of arms and hands.
IF YOU'VE ENJOYED THE GALLERY THEN PLEASE
SIGN MY GUESTBOOK TO LET ME KNOW YOUR COMMENTS.
Sign My Guestbook
View My Guestbook

Just for those people who are REALLY into crafts,
I have listed more places to visit.
But, don't forget to
bookmark this page
so you can come back to the
Gallery of Polymer Clay.
This Poly Ring - Polymer Clay WebRing - site is owned by Cynthia.
Click for the [ Next Page ] [ Next 5 ] [ Random Site ]
Want to join the ring? Click here for all the info.
If you have questions or suggestions
or know of an interesting place to add to my links,
please contact me at
Send Email to
Cynthia

(music : Dream Lover)