WELCOME TO WILD & RARE
STALLARD'S PETS
THIS PAGE MAY TAKE A WHILE TO LOAD
page created and unaltered since 1998

Introducing our pet family ... As I have mentioned.

I'm going to show you just a few of them

as we really have too many to include them all.

Paco - Is a Cherry Head Conure and can be quite a ham. He owns Troy.
He loves Troy and his beer. (NOT RECOMMENDED FOR BIRDS)
Paco had taken to biting as he had come from an abusive home.
Through much time and effort, we can now hold Paco and let him
sit on our shoulders. Now, the only thing Paco bites is kitty cats.
"Here kitty kitty kitty!!!"

OkeeDokee - Our Cockatiel

PICTURE NOT AVAILABLE

SkyKing and Powder - Our Parakeets

They think they are love-birds.

We got them a nesting box for Christmas.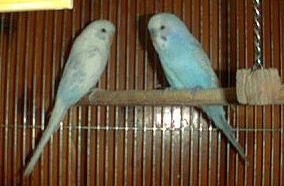 Casper - A Fat Tailed Gecko
Casper is sitting on a turtle statue.
Casper is my special lizard.
He is cool, calm, slow moving, and docile.
He can sneak away so quietly that his name suits him.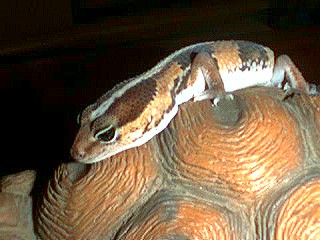 Ickus - Is an Iguana
Ickus likes to be hand fed. His favorite
hobby is sunning himself in a window.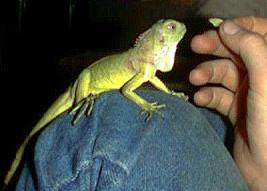 Taffy - Our little Chihuahua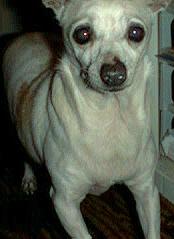 Taffy owns me and sleeps all day on the couch.
She is boss. Taffy was a lost and abused dog
that had broken bones and various wounds
and was rescued off the streets of Escondido.
We have had Taffy for 8 years now.
Petie - Our large dog that started out as
Pewee but we had to change that.
Rat - Ratzilla
Turtle - Speedy
Ducks - Quackers & Waddles
and Roosters - Mo, Larry, & Curly
And our Cats - we must have around 20.
A few are our own, but most are strays that
found food, water, and warm places to sleep.
If you have the chance to rescue a little animal
or just give a homeless one a place to live - - -
please, do so. Here are the products of some of
our "WILD" adoptees :
kitten toy lickin' kitten killer kitty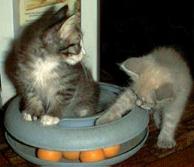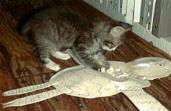 kitty chomp space ship kitty space cadet kitty


The kitten with the white socks loves to go bye-bye in the car.
These precious kittens were rescued
and bottle fed from 1 week old 1998.
They're mother was wild and homeless
but now they all reside with us.
Can you spare a little love.
Adopt a pet.
(Southern California area)
Some of the older kittens/cats would love to be indoor kitties
and some are strictly outdoor pets that would be
really uncomfortable inside.
But all have unique personalities.
(ferals are not up for adoption)
Please, spay and neuter your pets.
---
Along with all these cute little animals - we still find time for hobbies.
We enjoy many types of crafts.
Please, come visit my Gallery of Clay.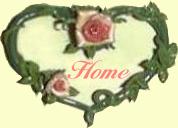 (music : Vision of Love)
---
CAN COME BACK TO OUR OTHER LINKS AND THE GALLERY
COOL LINKS :
PETS.COM
DISCOVERY.COM
SAN DIEGO ZOO.COM
& WILD ANIMAL PARK
We will be continuously adding interesting pet places to visit.
If you have suggestions of good pet places to add to our links,
please contact us at